75th Lincoln and Welland Regiment Memorial Service 6th July 2019
Over 200 people from Crowborough and Members of the Golf Club gathered at the Memorial for this special commemoration to remember the nine soldiers from the Regiment who lost their lives when a V1 bomb landed on the camp kitchen in 1944 when the Regiment was encamped pending embarkation to Juno beach as part of the D-Day landings.
Local dignitaries included the Lord Lieutenant of East Sussex Peter Field, the Wealden MP Nus Ghani, the Town Mayor, and the President of the Golf Club Earl De La Warr. Representing the Regiment were their Commanding Officer Col Cincio and his RSM Steve Ward who had flown over for the occasion. Col Price represented the Canadian High Commission in London.
Special mention must be made of Bill Smith who was in the Regiment that fateful day and despite advancing years was determined to be at the Memorial to remember his fallen comrades. He was joined by Art Wing and Hugh Burton, sons of fathers killed, who had flown over for this momentous occasion.
The Service was led by Rev Alan Weaver during which Robert Taylor read out his especially composed tribute. Wreaths were laid by the assembled dignitaries and associations and followed by the Last Post and the Exhortation.
Afterwards Guests returned to the Clubhouse for a buffet reception being welcomed by the Ian Mein, President of the Crowborough Royal British Legion and Club Captain Sean Nolan. During the speeches that followed the Lord Lieutenant read out a message from HM The Queen (see photos). Specially struck medals depicting the Memorial and names of the fallen soldiers were presented to the Honoured Guests.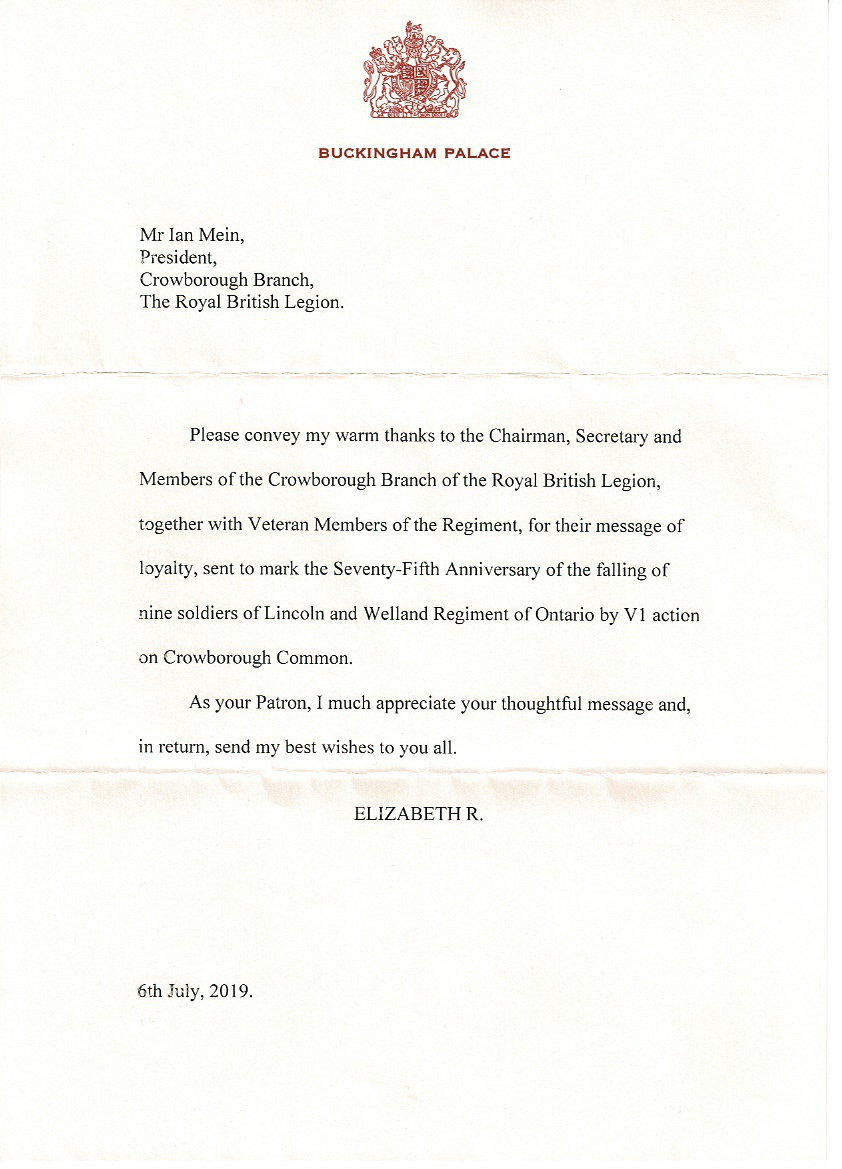 The event was jointly organised by two Honorary Members of the Regiment, David Harris for the CRBL and Graham Midmer for the Golf Club.
Thanks go to Chris Coates for his excellent photography.