Member Login
To Login to the members area you will need to first create your own personal PIN number. This will require you to specify your Membership Number, Date of Birth and Postcode.
Your membership number is printed on the front of your membership card, as illustrated below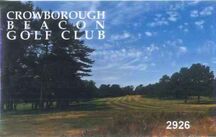 Your PIN number has to be a minimum of 4 numbers and cannot be easy to guess like 9999 or 1234. Also, it is no longer the door code and never will be. You can choose any 4 numbers you find easily memorable.
Once you have created your PIN number and checked/updated your email address, you will be able to use your email address as your Login if you would prefer. Please however note that if your email address is not unique, you will have to use your membership number as the website needs to uniquely identify you.
If you have any problems in creating your PIN number, please follow the on screen instructions and we will do our best to respond as soon as possible.
To set your PIN now, please click here