Emma Morgan - Our new British Champion - the full story
Emma Morgan - British Women's Speedgolf Champion.
Emma put in a fantastic performance on Sunday 16th August to scoop the first Women's title at the British Open Speedgolf Championships.

(Click to enlarge thumbnails)
30 competitors battled it out for success demonstrating their golfing prowess as well as running ability. The youngest contender was just 17 but ages ranged through to 57. The splendid Dale Hill Old Course, near Ticehurst, East Sussex provided a challenging terrain for competitors, whether they were seasoned Speedgolfers or novices to this new sport. For the first time, British Speedgolf had a dedicated women's category, in just the second year of the annual championship. The Dale Hill Old course was a Par 70 off the Red for the women and Par 69 off the Yellow for the men; 5164 yards and 5512 yards respectively.

Competitors went off individually, at 6 minute intervals to ensure they had the best chance of a clear run; to avoid play throughs. They started their round with an appropriate running start. A Speedgolf score combines the total shots taken plus the time to complete the course, for example shooting a round of 90 on a golf course in 59 minutes and 30 seconds would combine to an overall Speedgolf score of 149:30.
Emma Morgan from Crowborough, East Sussex who plays regular golf off a 6 handicap, won the ladies title shooting 88 in just 64 minutes and 22 seconds giving her a Speedgolf Score of 152:22. For those who don't know, Emma used to play for the Sussex Ladies county team before she had her kids so with a busy schedule this new format better suits her busy lifestyle; a full 18 hole in just over an hour!

Runner up was Virginia Deigan from Melbourne Australia who ran an impressive time of just 58 minutes seconds but whose golf fell short of the mark on the day when she shot 100 giving her a speedgolf score of 158:13. Virginia had flown in especially for the championship and will compete in the Australian Speedgolf Open Championship at the end of this month!
The ladies field boosted a range of skills from backgrounds focused on golf, running and even a retiring pole vaulter (Mariette Hilborne) from East Grinstead (French Nationality), but it was great golf on the day that endured and created success for both Women's and Men's champions. In the Men's championship it was Ireland's Rob Hogan from Galway, who put in a stunning performance shooting a round of 77 in just 34 minutes and 4 seconds giving him a Speedgolf Score of 111:04, this was a personal best and just shy of the current Guinness World Record of this sport.
Congratulations Emma! Anybody else interested in competing next year please speak to Emma for advice!!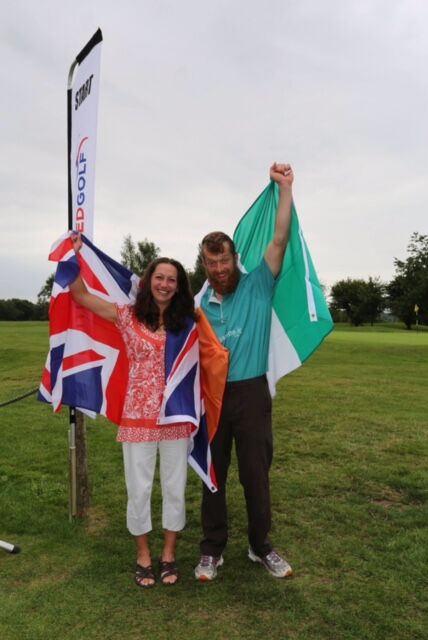 Emma with Men's Champion Rob Hogan.