Late Winter 2023 News Round Up
Despite the very wet weather that we have experienced over the past few weeks many keen Crowborough Beacon members bravely ventured out onto the course (when allowed), and played in a few competitions as follows:
The Mens De La Warr Trophy took part over the weekend of Saturday 25th & Sunday 26th February. 32 men entered Round 1 on Saturday 25th February playing a fourball better ball stableford. The winners scoring an amazing 45 points were the Captain – Paul Black and his partner Keith Allison. There was a tie for second place with Steven Tappenden & Chris Dwyer and Geoff Thomas & Dave King scoring 41 points, However Steven and Chris took the runners up spot with a better back nine. The top 8 pairs qualified to Round 2 which was played on Sunday 26th February when they had to do it all over again. Continuing their good golf Club Captain – Paul Black and Keith Allison were victorious with their second round of 39 points giving them the top accumulative score of 84 points. The runners up with a score of 82 points were Andy Goodwin & Dion Mason who pipped Geoff Thomas and Dave King on countback.
12 pairs took part in the Calamity Jane Putters on Sunday 26th February. This was a greensomes stableford competition and was open to any combination of pairs. The outright winners with a score of 38 points were Robert and Mary Legon. Jane & Peter M Adams were the runners up scoring 33 points with Sue Pittman and Ian Smith taking third spot on countback from Ken & Linda Howlett with both pairs scoring 31 points.
The ladies held a Stableford on Thursday 2nd March with 34 ladies taking part. There was a three-way tie for first place with Mary Legon, Sue Pittman & Mary Bell all scoring 34 points. However Mary took the top spot winning on countback.
62 members took part in the Allcomers Stableford on Sunday 5th March. With an amazing score of 44 points the winner was Jeff Miles. Andrew Goodwin just one point behind with 43 points was the runner up and Max Howard was third with 43 points. Fiona Blackwell was the leading lady of the day scoring a very creditable 37 points.
The ladies De La Warr Cup took place on Sunday 19th & Thursday 23rd March with 23 ladies taking part. The winner scoring 36 points was Wendy Cook. There was a tie for second place with both Vicky Mclean and Mary Bell scoring 35 points, however Vicky took the runners up spot on countback. The rules of this trophy competition however stipulate that the winner must play off the red tees and have a handicap of 24 and above. As Wendy had played off the blue tees sadly this meant that even though she was in the top spot she was not eligible to win the trophy. Congratulations therefore go to Sue Pittman who came in fourth place but having played off the red tees and being in the correct handicap category qualifies to receive the trophy.
Crowborough Beacon ladies won the Winter League Shield pipping Willingdon by half a point. This singles match play competition is played against Cooden Beach, Highwoods, Seaford Blatchington, Willingdon & Royal Eastbourne on a home and away basis over the months of October to March. To mark the end of the league a Jamboree is held with all the clubs entering a team of 8 who play a friendly game followed by lunch and the presentation of the shield. This year it was Crowborough's turn to hold the Jamboree. So on 20th March 48 ladies all turned up bright and early for their tee times, however many of them did not get their clubs out of their cars! Unfortunately the weather was the winner on the day as not only was it windy, cold and raining but the fog also came down which meant that that days competition had to be abandoned. Before all the ladies departed Lady Captain Shelagh Black presented the shield to Angela Fry (Crowborough Ladies Team Captain) who complimented all the teams for their camaraderie over the past 6 months and how enjoyable the competition was. She then said how proud she was of the Crowborough ladies and thanked all of them who had supported her, sometimes playing in horrendous weather, but how grateful she was that she could always rely on having a good team behind her.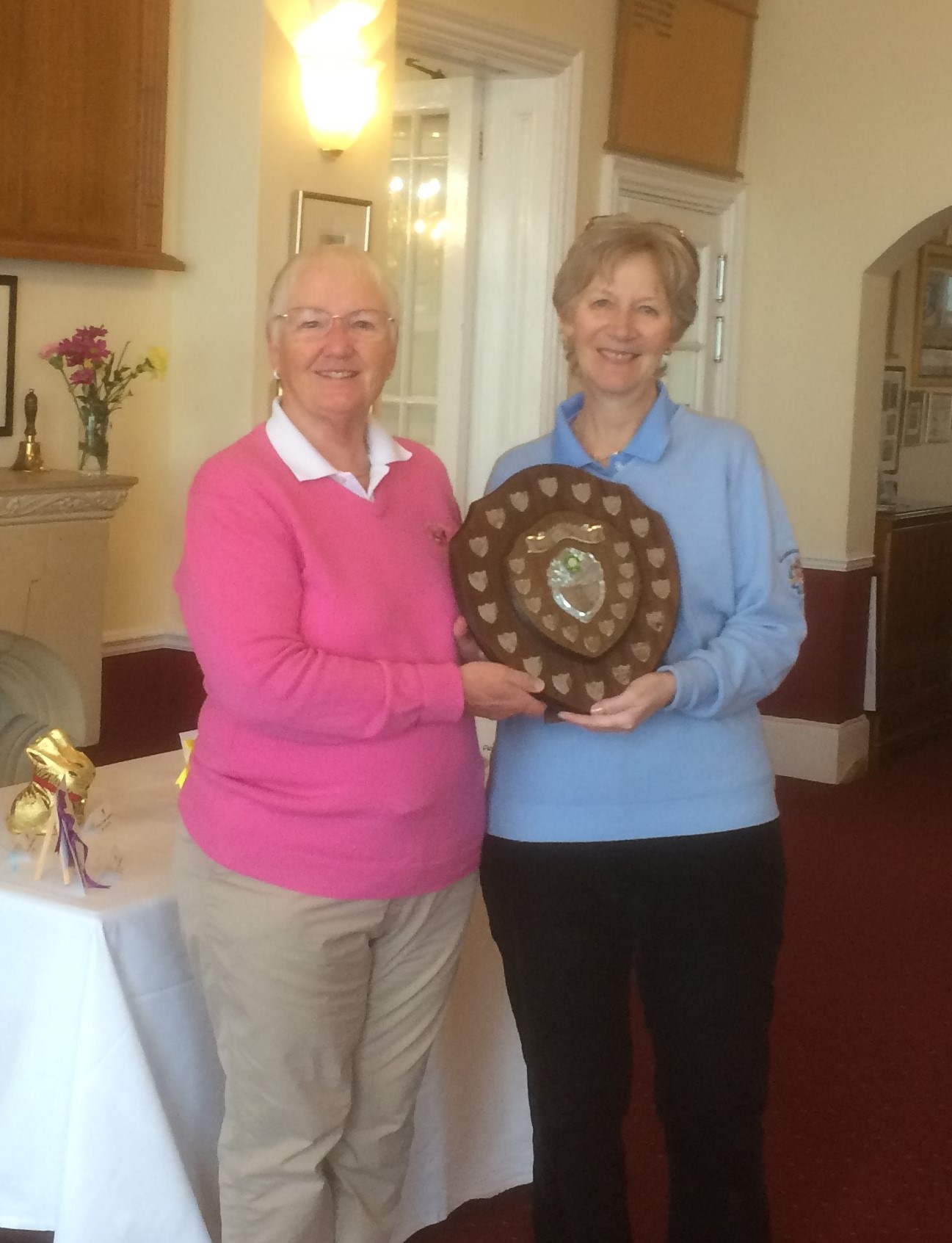 Other Results
Wednesday Rabbits – 1st March
1st Place – Benjamin Adams (44 pts), 2nd Place – Nick Thorburn (42 pts), 3rd Place – John Hughes (36 pts).
Wednesday Rabbits 15th March
1st Place – Bill Hards (40 pts), 2nd Place – Peter Lawrence (39 pts), 3rd Place – David Ward (38 pts).