Social News 2019
​
​​
​
Recent Social Events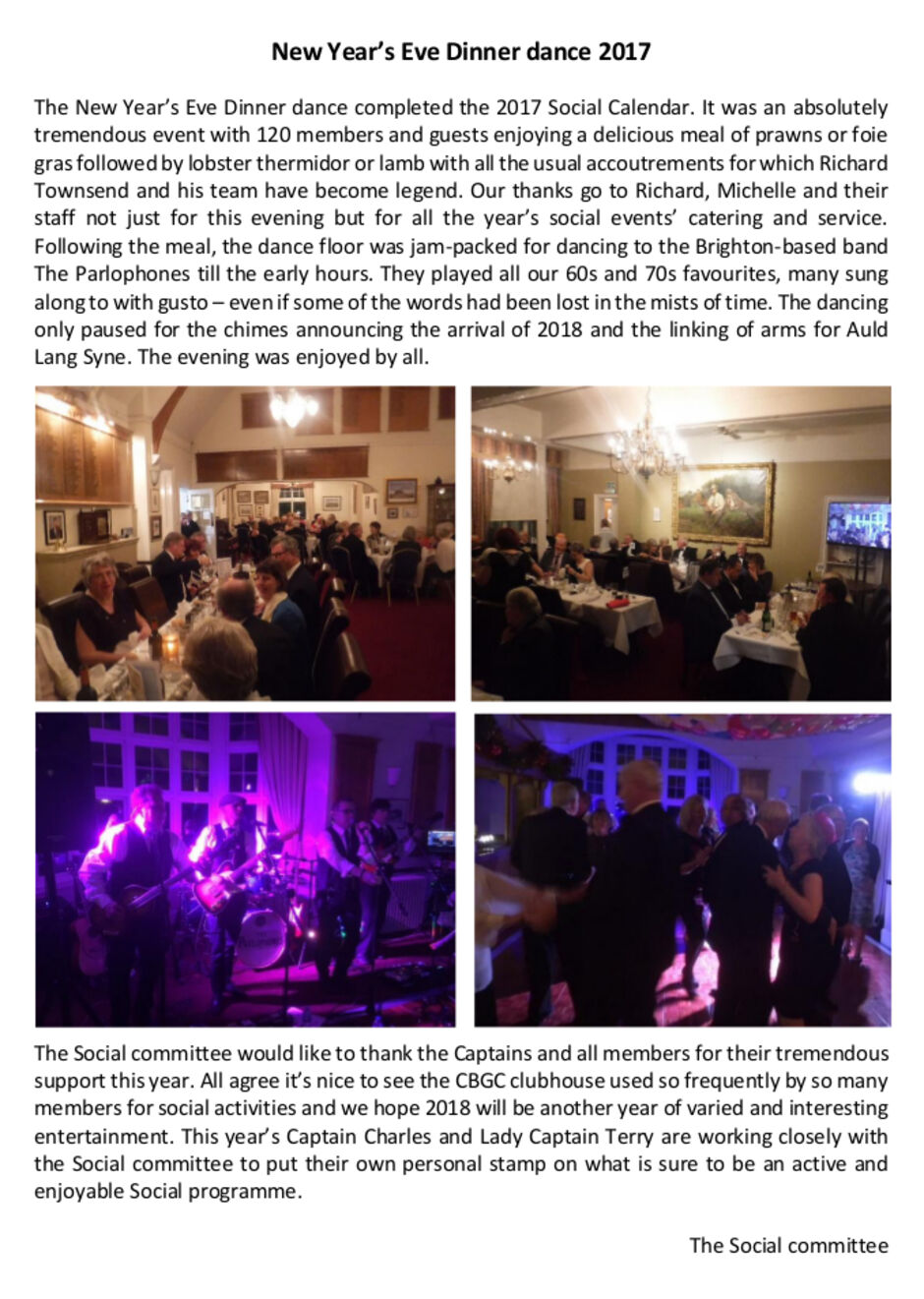 ​


Magic Event – Saturday 9th September 2017
On Saturday 9th September for something different Crowborough Beacon Golf Club hosted a Magic Event. Before and during an excellent meal prepared and served by Richard Townsend and his team Kris Singh amazed us all with his unique close-up card tricks. Signed playing cards were shuffled, disappeared and reappeared in a variety of different places.
After dinner there was a switch to a cabaret style act performed by mentalist Chris Chappell. The Captain and other members participated in a range of different games from Rock, Paper, Scissors to a golf themed exercise with Chris able to foresee the outcome of each through his psychic powers. The final number 'trick' involved Chris calculating a number chosen at random using a magic number square created in real-time in front of us and then calculating a second number similarly chosen at random merely by turning the square upside down. An impressive trick but after an evening of eating, drinking and socialising there weren't many members able to keep up with the maths!
The evening closed with those who had any energy left dancing to a Jeff Crampton play-list.
An excellent evening was had by all.

Stargazing evening - 30th March
The Stargazing night was a very successful evening with a delicious one course meal of either chicken and ham pie or fish pie plus vegetables provided by Richard and his staff. The knowledgable and very enthusiastic Greg Smye-Rumsby, our speaker for the evening, who is on the astronomy staff at the Royal Observatory Greenwich, blended a touch of humour, challenging opinions and extensive knowledge of stars and planets into a superb and very interesting presentation. He certainly has a lifelong passion for astronomy, especially the planets.
Unfortunately the evening sky was cloudy which prevented the use of an impressive array of very large telescopes. We would like to thank everyone who loaned equipment for this event. However as an alternative to viewing the stars/planets Phil Parker provided a light hearted and informative astronomy multi-choice quiz.
It was a pleasure to see so many members and guests (87) attending this rather different, mid-week, style/type of social event. As mentioned during the evening, if any member has an idea, similar to the Stargazing evening, that they believe would be of interest to the membership then please do not hesitate to contact the social committee who would be pleased to facilitate and organise the potential event.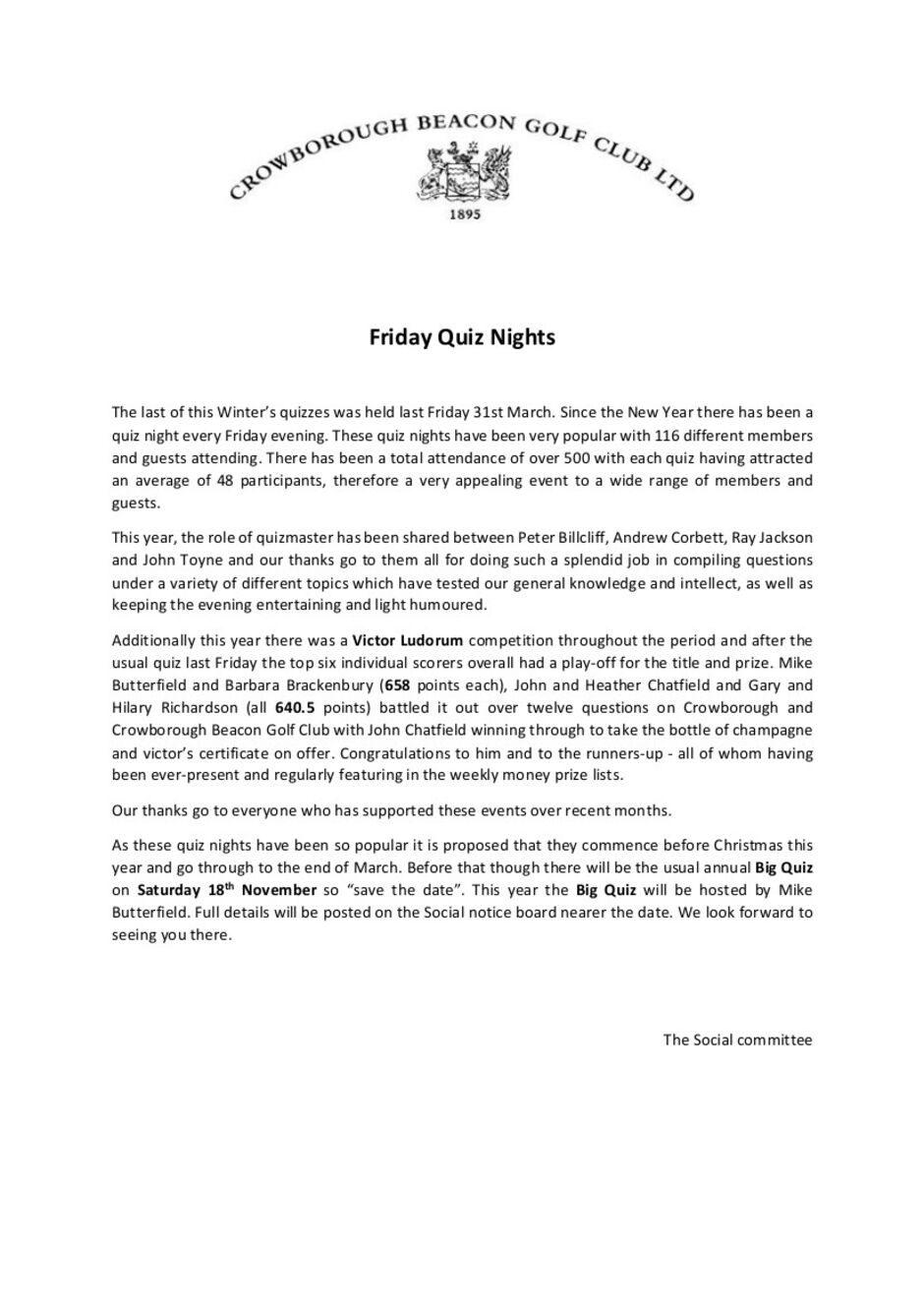 Race Night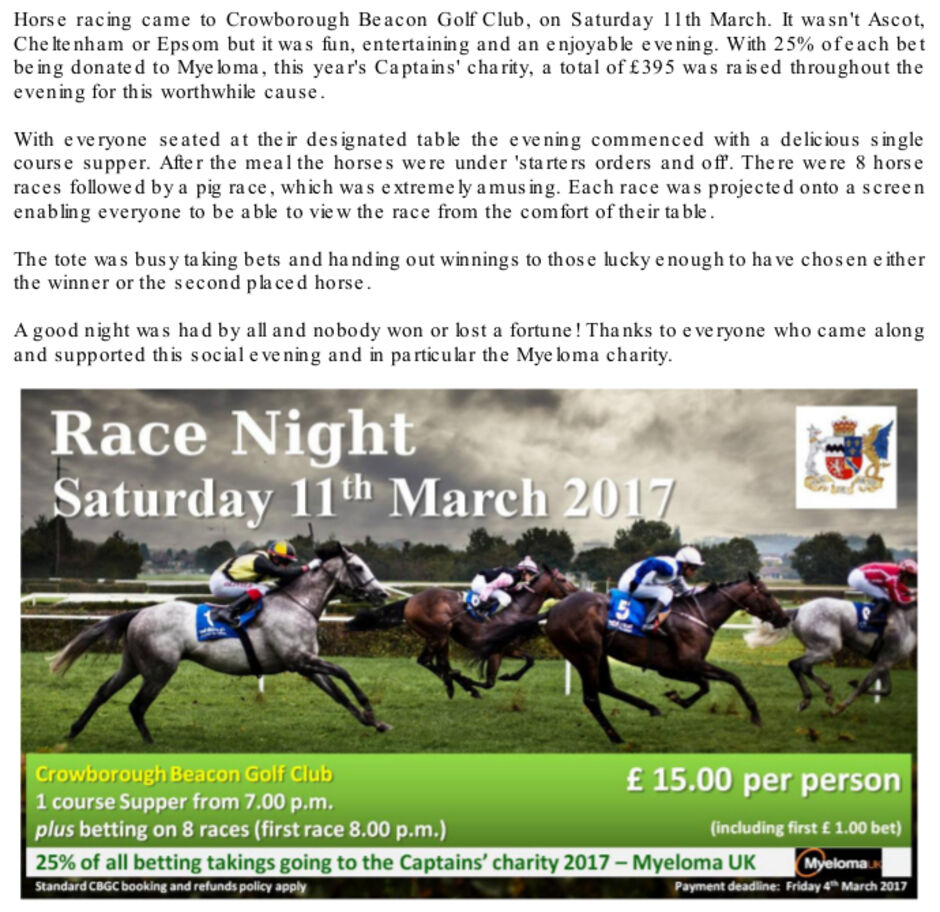 ​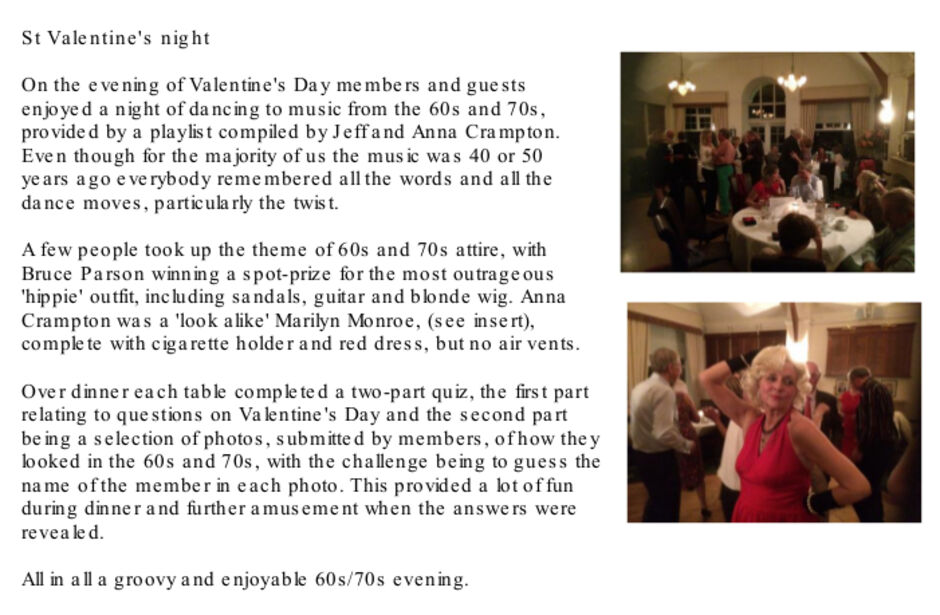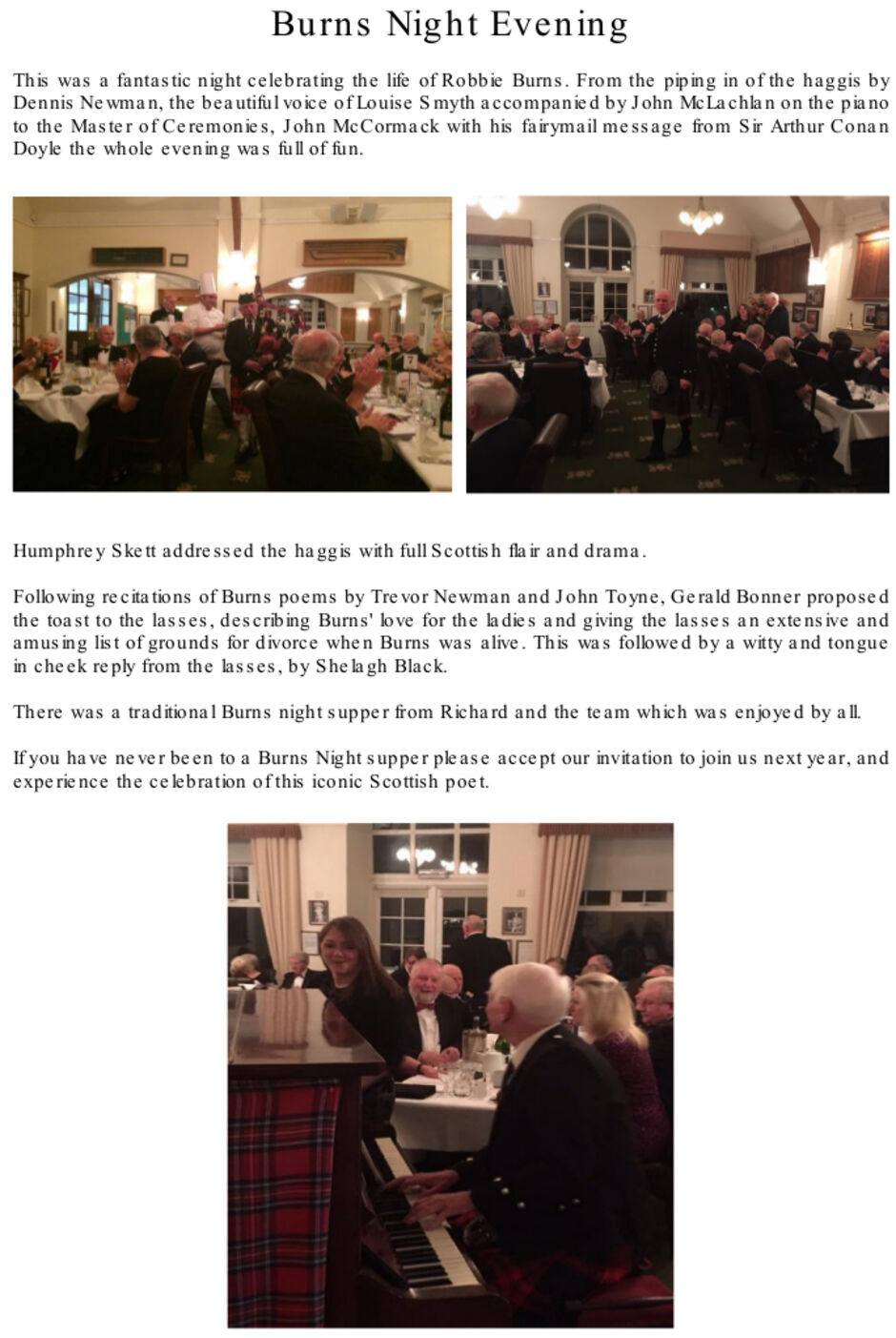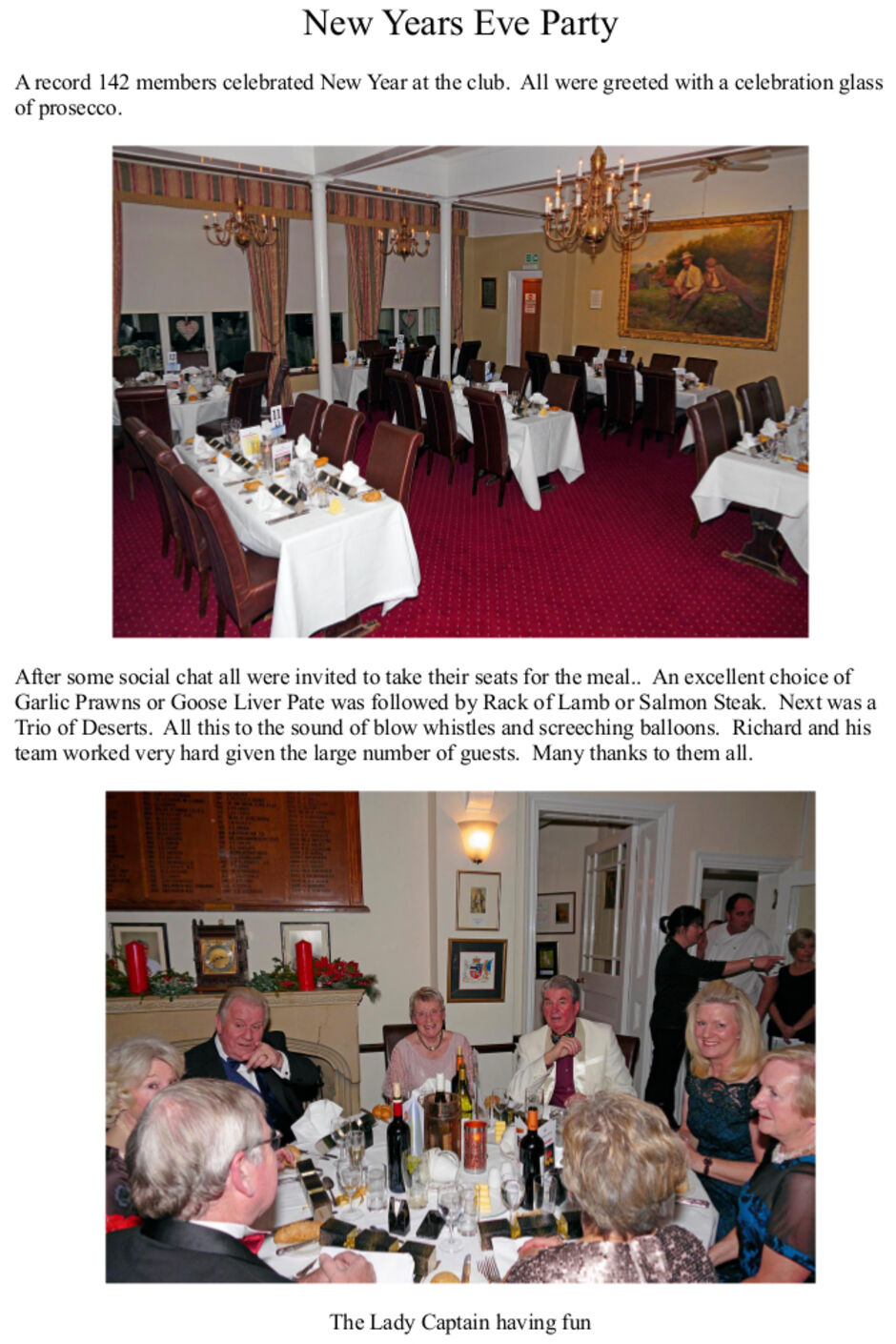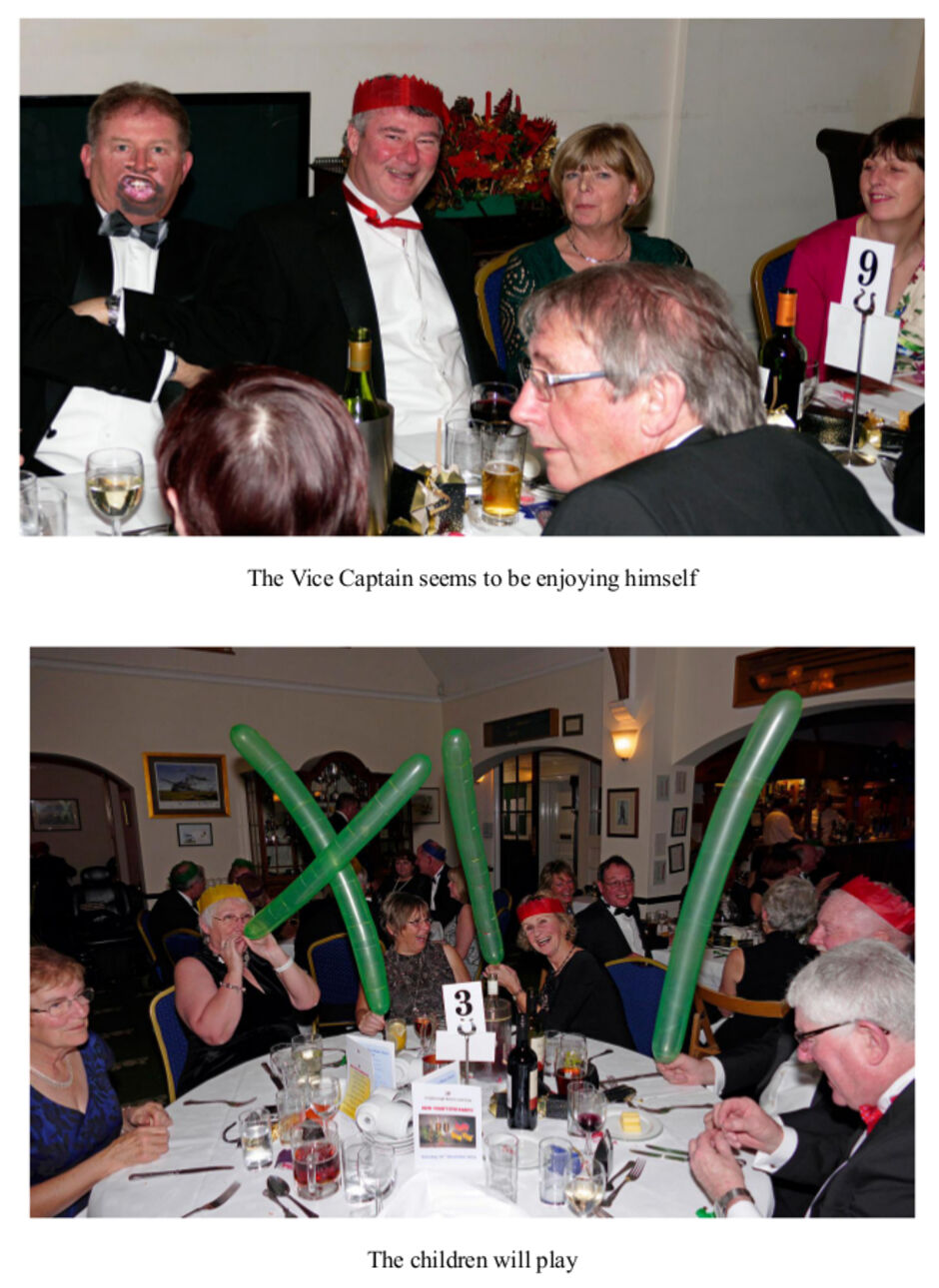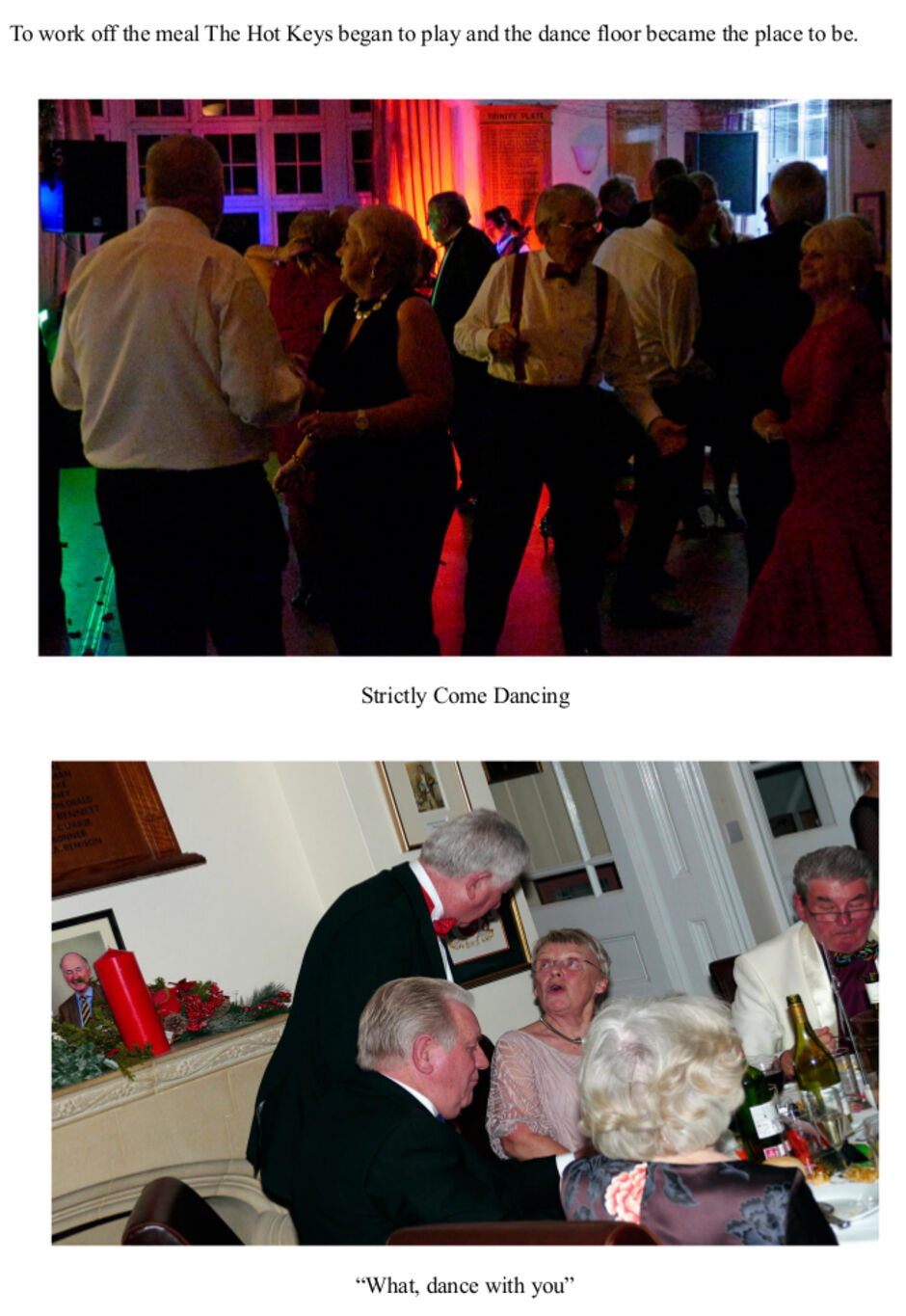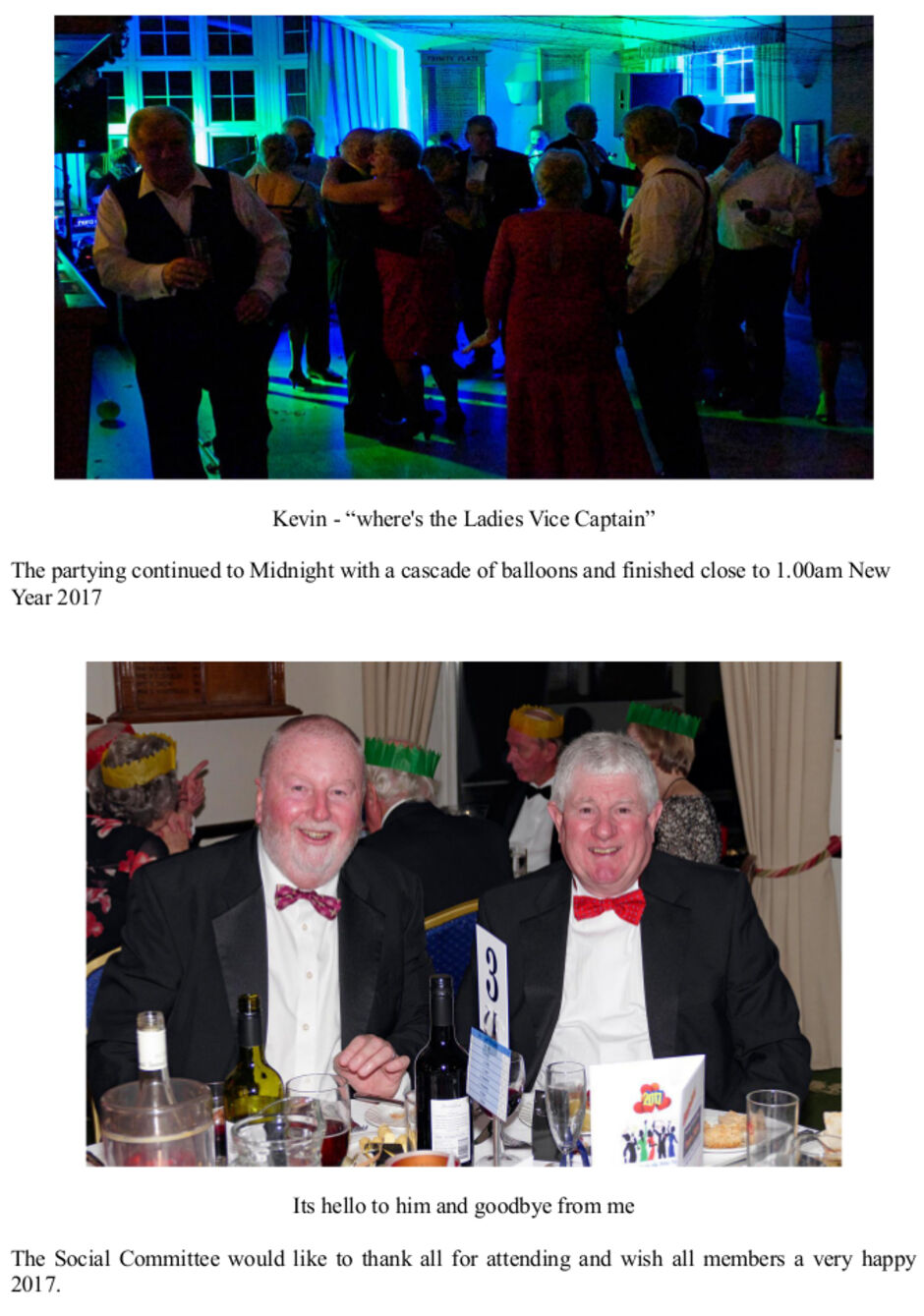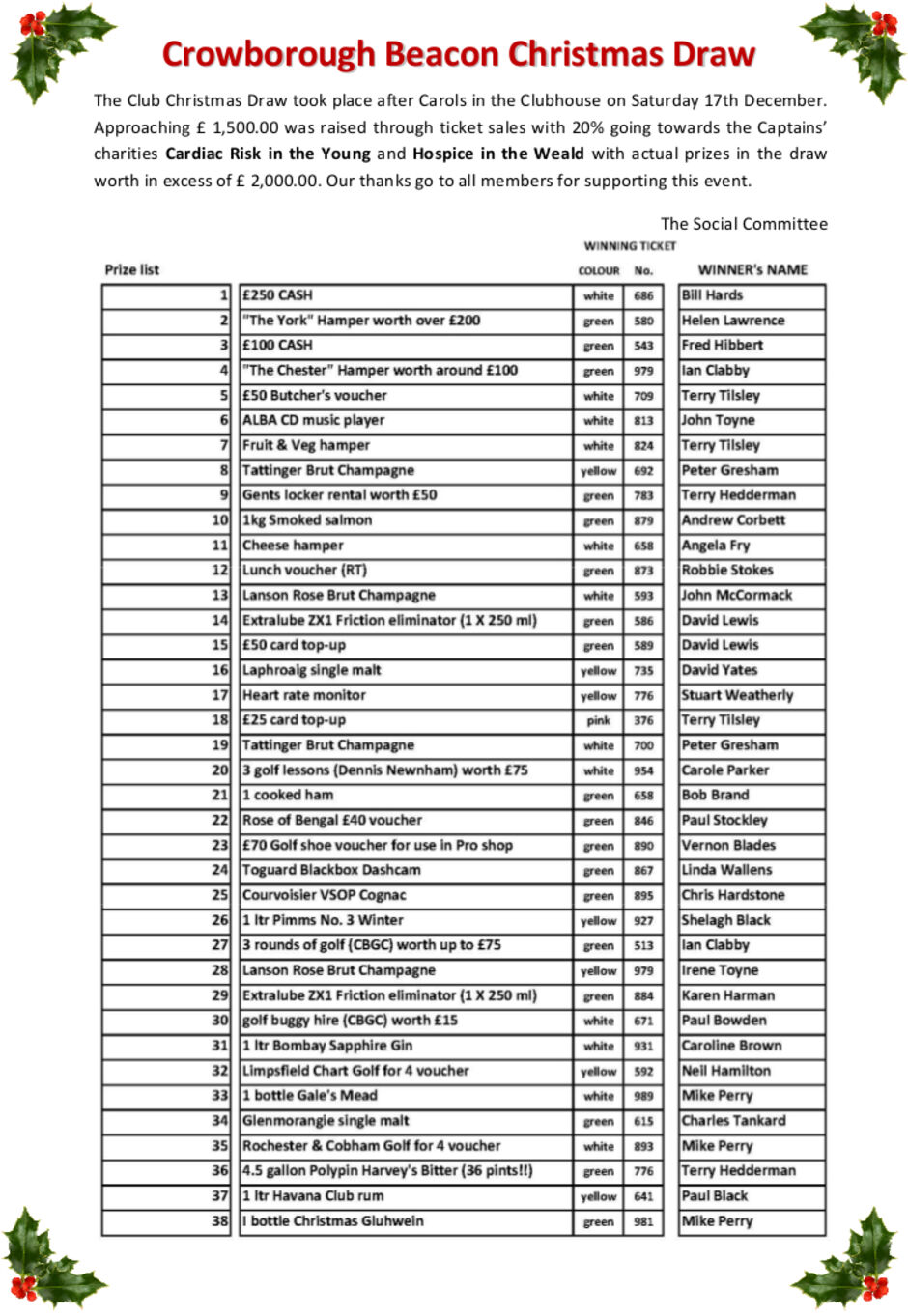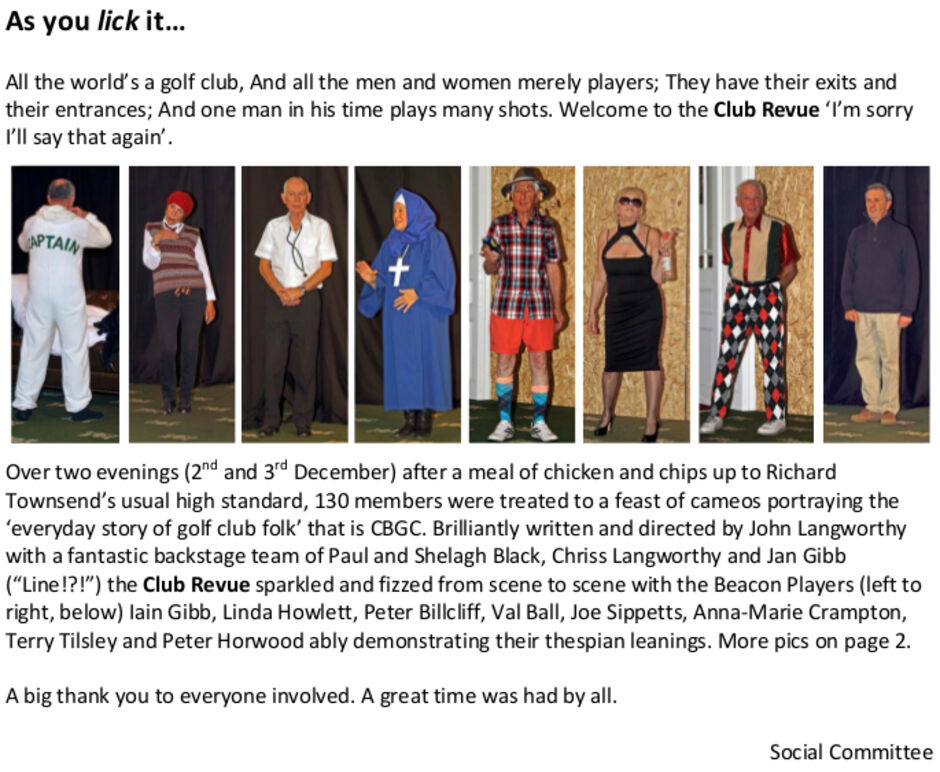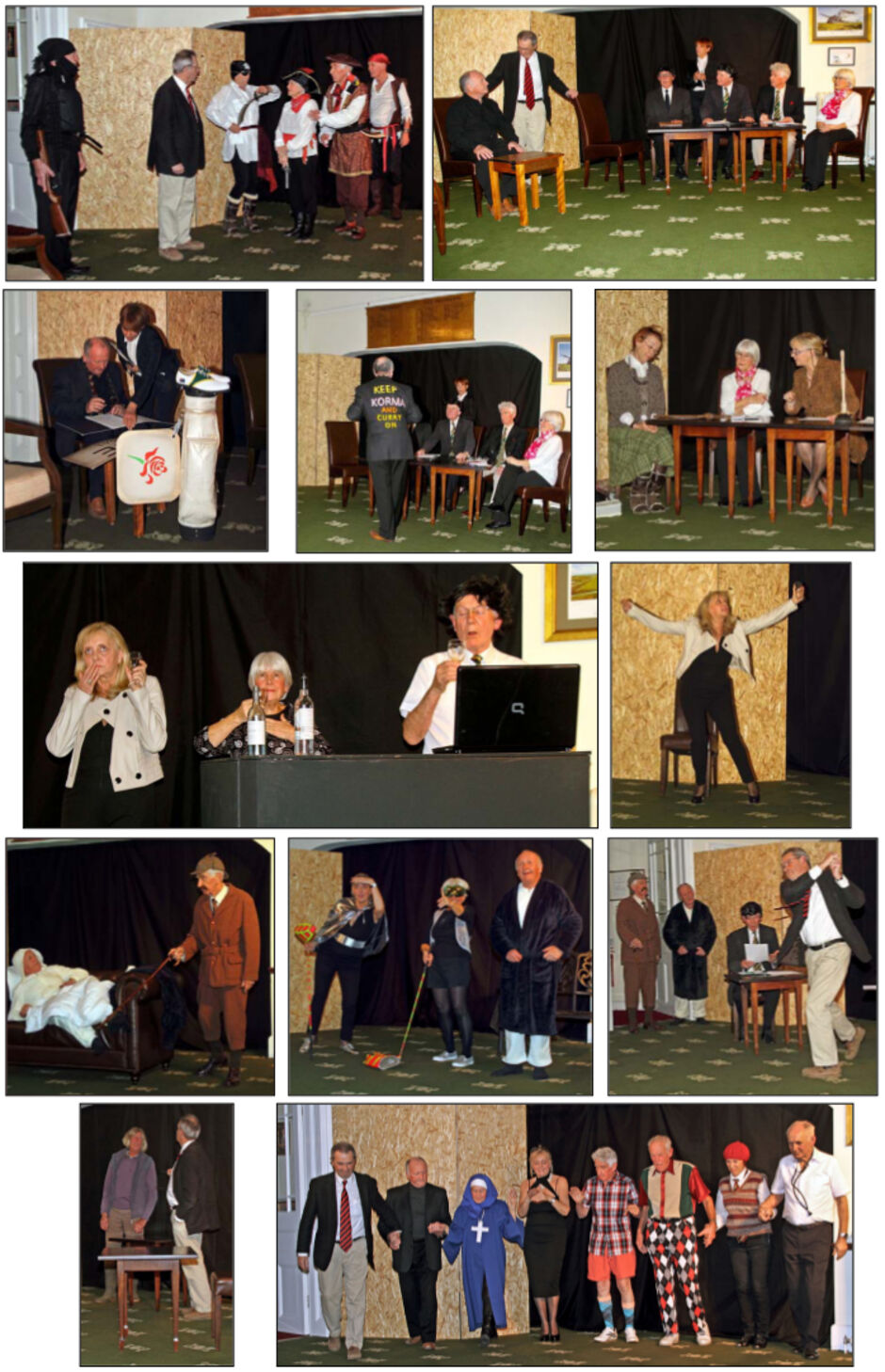 ​


Fun Golf – Friday 29th July – Dubai Stableford with a Twist
Another non-summer's afternoon saw 44 players for the third Fun Golf event of the year. Players went out in groups of 4 with 2 stableford scores counting on the hardest holes according to the Stroke Index, 3 scores on the intermediate holes and all 4 scores counting on what are, said to be, the "easiest" holes.
The winning team was John & Linda Spreadbury, Terry Conby and Pat Donald. Pipped at the post were Bruce Parsons, Lynn Collett and Peter & Sylvia Billcliff.
Third and fourth places were also very close, but coming third on Countback was the all-ladies group of Liz Avery, Georgina Westlake, Wendy Slack and Jane P. Adams.
After the game, an additional four people joined the players and everyone enjoyed Lasagne, Garlic Bread and salad. Thank you Richard for looking after us so well as usual.
The next game will be on Friday 2nd September when we will hope, once more, to be finally rewarded with a nice warm afternoon.
Fun golf: Friday 3rd June Competition – Pairs Pinsplitter
This game was great fun, very varied and one that nobody other than the organisers had played before. The first 3 holes were played as a Betterball Stableford, the next 3 as a 2-ball Scramble and the last 3 as a Greensomes. With all the scorecards and handicap calculations done in advance to avoid confusion, it was a well received game by the 28 players. Once again, the last groups came in rather cold – what has happened to summer?!
Our champions this time were Penny & Jim Tyrrell, closely followed by Sara & Harry Young, Irene Toyne & Dennis Bell and, keeping it in their families, John Toyne & Mary Bell. An extremely tasty Chicken Curry went down very well, so many thanks, once again to Richard and Michelle.
Fun golf: Friday 13th May Competition – Seattle Scramble
Fortunately, Friday the 13th brought no trouble to the 40 players who ventured out for the first Fun Golf get-together of the year. It was more than a bit chilly for the last groups, but nothing that a glass or two of wine and a nice warming meal could not put right. Many thanks to Richard and Michelle for an excellent Chicken Pie. It was good to have a number of non-playing partners join us to eat. You are always welcome.
We played a Seattle Scramble in teams of 4 over 9 holes and with everyone having to take at least 2 drives, there was no time for sitting back and relaxing.
First prize went to Brenda & Stan Clift, Peter M. Adams & Mandy Monk (you are not supposed to win a game you are jointly organising!). Second were Penny & Jim Tyrell & Jan & Iain Gibb and third were Irene & John Toyne &, very welcome newcomers to Crowborough, Mary & Dennis Bell.